Mon Feb 25, 2019 5:22 pm
As is usual sometime in Spring, Mercury is well placed in the evening sky - for a little while. It is probably best seen in the afternoon while it is still high in the sky, but that requires an aligned 'goto' or some other means to find it. During the past week the sun has lit up very thin, high clouds making it impossible to see let alone image. A change of wind direction seems to have got rid of all that high humidity, and I was able to see Mercury at about 2:30pm this afternoon. (25th Feb) It was about a third of the way up above the horizon and is showing a little over half phase. I took 1000 images and stacked 200 of them.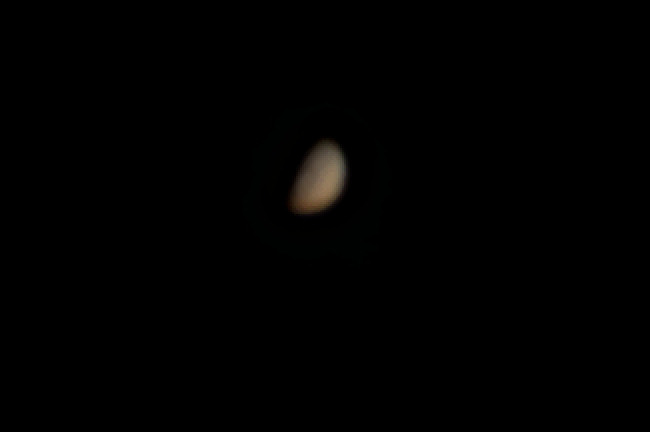 It is always hard to tell, but I think on this occasion I caught some surface features, but I couldn't say what they were though. (11" and Canon)
Mon Feb 25, 2019 11:17 pm
That's quite a result for mid afternoon! Certainly looks like darkening to the south.

We've had really clear skies for the last 5 nights and Mercury has been shining brightly low in the west after sunset.
Wed Feb 27, 2019 11:55 pm
Better images can be obtained during daylight due to better 'seeing' when the planet is higher up. Not that there isn't quite a bit of turbulance during the day, but further from the ground the turbulance seems slower and larger, creating more good images in the stack. Any kind of haze will ruin the contrast against the bright sky. Deep blue skies are better than the light blue kind.

Mercury will rise slightly higher over the next few days, and the phase becomes crescent. The planet will get slightly larger too. It will be around for the first few days of March, but it rapidly disappears after that. I hope lots of people get to see it. If anyone doesn't have a low western horizon for an evening view, then try looking from an upstairs window! It worked for me way back!
Wed Mar 13, 2019 2:41 pm
Yesterday a blackbird was singing near home all afternoon, which made it feel very spring-like.
Wed Mar 13, 2019 11:06 pm
They're territorial, I expect he'll be back!